$1.5 million granted to Paintsville Independent's STEAM Academy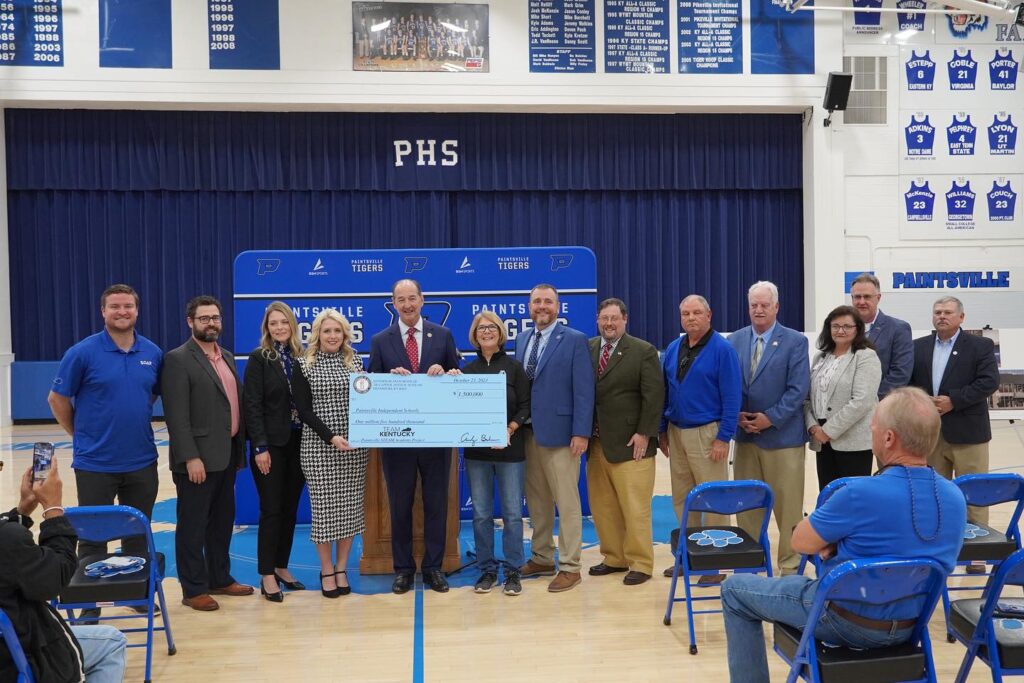 PAINTSVILLE, Ky. (Oct. 23, 2023) – Today, at Paintsville High School, Rocky Adkins, senior advisor to Gov. Andy Beshear presented $1.5 million in funding from the Appalachian Regional Commission (ARC) to benefit Paintsville Independent Schools.
The funding will be used to help renovate an old bank building on Main Street in Paintsville and turn it into a vocational learning center for students in 7th through 12th grades known as the STEAM Career Center. The STEAM Career Center will be within walking distance of the high school and middle school and is projected to serve 500 students annually.
"We know that the best investment we can make is in our future," said Adkins. "Our students are the future of Kentucky, and they deserve every opportunity to get ahead and be successful. This new career center will prepare these students for the jobs of today and of tomorrow."
"The new Paintsville Independent Economic Development STEAM Career Center is going to provide our students, community members and regional partners opportunities and options," said Paintsville Independent Schools Superintendent David Gibson. "Our students will be able to explore different career paths and decide which one may suit them best. Investing in our region and helping our students achieve success and reach their dreams is our ultimate goal."
The renovation plan proposes to modify the old bank building to support engineering labs, an allied health space, a sound studio and a meeting space. Programs expected to be offered will include nursing; phlebotomy; marketing and entrepreneurship; computer programming; advanced manufacturing; culinary arts; and media and sound production.
Several businesses have agreed to provide equipment and expertise to help with the new STEAM academy. Paintsville Independent Schools bought the old bank building in 2022 and received $2.5 million in state funds to establish the STEAM Career Center.
The $1.5 million in funding comes from the base program of the ARC. Projects from the base program are approved at the federal level upon Gov. Beshear's recommendation.
The ARC is an economic development agency of the federal government and 13 state governments focusing on 423 counties across the Appalachian region. Its mission is to innovate, partner and invest to build community capacity and strengthen economic growth in Appalachia to help the region achieve socioeconomic parity with the nation.
Reported by K-94.7